I bought a journal called "Wreck This Journal" by Keri Smith. It is full of suggestions on each page for things to put there, ways to damage the book, and places to take it. One of the instructions is "work against your better judgment".
The emphasis is on enhancing your sense of freedom, smashing boundaries, and embracing the courage to do something different and personally challenging – destroying a perfectly good journal as a game.
This would be the perfect starter journal for someone who was interested in altered books or other altered art, but just couldn't bring themselves to ruin an existing book in the process.
Personally I love tearing up old books to use the pages for collage art – with the presumably obvious proviso that it's not a first edition or otherwise rare book. Truth moment: if I'm worried about the value of the book, I scan attractive pages and play with them instead.

Destruction is a useful concept for enhancing creativity. Sometimes objects become useful for creative purposes when they are dismantled. It's not just learning how something works – reverse engineering a machine, or a compound – it's also inspiring ideas for how things might go back together in a novel way. The other day I was passed at a stop light by a reclining bicycle that looked so odd, I suspect a home built. Different, ingenious.
And then there's using the parts for a different purpose altogether. "MacGyver" – worth watching a few episodes just for fun. But what else – machine parts for Steampunk jewelry (there's an aesthetic preference coming up), interesting shapes for stencils or as resists,  creating armatures or bases of sculpture, and I mentioned collage so I will add found object art.
Nature destroys for creation – a garden thrives on compost and tilling. I've been planting bulbs and transplanting orchids – you have to dig a hole. If you want flower beds, you have to sacrifice some lawn.
Being willing to destroy in order to create – including being willing to take apart an old idea or assumption – is as important as being willing to begin.
I think the feeling of reluctance to  tear apart a copy of Encyclopedia Britannica is very similar to the fear of putting that first mark on a six foot canvas (do you know how much those bad boys cost?), or write the first words in your character description.
One tip for the wary – have a plan, at least for the beginning. Follow an instruction even if it is one you wrote yourself. ("Tear out every other page"; "Start with blue across the center").
So how do you get past the feeling that you are breaking something or destroying the value of it?
Start small and easy. You might try "Wreck This Journal" or you could consider a visit to a used book store for some old paperbacks – especially if they have multiples. How about starting with outdated school textbooks? The math ones have some lovely visuals. Remember the line in "The Day After Tomorrow" (2004) ?
"Uh… 'scuse me? You guys? Yeah… there's a whole section on tax law down here that we can burn."
Consider this: every time you take apart an old piece of obsolete equipment, like that junky turntable, you make the pristine one they keep in the Smithsonian's storeroom more valuable.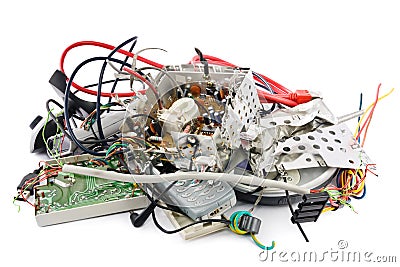 I learnt recently, through the long process of trying to sell items from my mother-in-law's estate, that many everyday objects that we thought must have historical value for someone, are generally considered not even worth trying to sell. Condition is everything. Once it's chipped, or torn or stained, unless it is truly an antiquity or genuine old, old antique or super rare handmade limited edition to begin with (like our fireplace surround) – it might be worth more made into new art. Reupholstered in a contemporary fabric. Covered with mosaic, or spray painted. Turned into a box or a table. Cut up for a purse or pillow.
The trick is to just start. Make that first mark, that first cut, that first tear. Wet things that should stay dry (unplugged of course!) Let things dry out that are usually wet and see what results (artchokes dry beautifully). Crumple and bend. Scrape, sand and poke.
Just start.