The Second of the Elements of Design – Shape
Shape – the outline of an object. It will have at least height and width, and in three dimensions, depth/thickness. Shape is often defined by line, but also by color, and texture. In a sense, a shape is defined by where it ends.
The simplest shape – the circle – is the foundation of technology – the wheel.
There is positive shape – the space occupied by the object – and negative shape – the space left empty. And there is optical illusion – variations on this famous face vs vase illustration.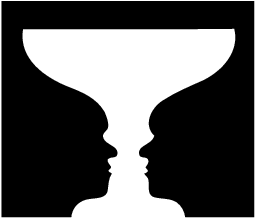 Silhouettes – distinctive shapes in the absence of detail – can be extremely evocative. Instant shape recognition is something advertisers have long known and taken advantage of, as do graphic artists, logo designers, and the designers of public signage. Fact is humans are hard wired from birth to take note of high contrast simple positive and negative shapes that represent faces.
Shape in garments – well shaped garments create shape in bodies, including illusion and enhancement.
Proportion is a factor in shape. The visual meaning of a shape alters with changes in proportion.

Shape is important in set design. First the floor plan, dependent on the performance space, is a 2D shape. The floor plan facilitates movement and flow. The elevations might show levels. Set pieces  show the architecture of the set – realism, abstract, expressionist. The shapes may have soft edges and curves, or straight lines and hard angles. Geometry, the science of shape, is important – especially for defining sight lines and the effective wedge (the part of the stage visible from every seat in the audience).
The Golden Mean
This is a magical seeming ratio produces rectangles that are considered to be the most pleasing to the eye, the most balanced and the most restful. It is believed to occur all over the place in nature. It has been called the Divine Proportion. Euclid is known for exploring it, and it is a big feature of Classical Greek architecture.
The actual number of the Golden Ratio is represented by Phi, and like Pi, goes on forever. The mathematical formula is:
.
but for artistic purposes we can approximate the ratio as 1:1.618, so a rectangle where the long side is a little more than one and half times the short side is getting there. (Long side divided by short side.)
Try using a drawing program to draw a pleasing, comfortable rectangle. There will be a moment when intuitively it just feels right. I bet you will be very close to the Golden Mean. Some artists are known for intentionally measuring to use the ratio. However it turns up automatically in all kinds of art because of aesthetic intuition. The proportion looks and feels right.
Looking for Shape
Just as once we started looking for line, it seemed to be everywhere, once you start looking at shape inside art, and appreciating the shape of objects in your environs, shape will be really obvious.
Spend time appreciating the pleasing shapes of your belonging and shapes in nature. Shape is often governed by function – leaves, birds' beaks, animal's teeth, teapots. Ergonomics influence shape, how a well designed tool feels in the hand. Look at shapes within architecture. It isn't all rectangles.

Fun with Shapes
Play with kids' blocks. Look at the shadows cast by your towers.
Play with tangrams.
Negative Shape – Space.
One reason people stand with their hands on their hip in photos is to create the negative space under their arm. It breaks up the shape and makes you appear slimmer.
The beauty of an object on a shelf can be better appreciated if the space around it is defined – hence shadow boxes, and bookshelves. Many pictures look better framed with a mat.
In music, moments of silence can give clarity to the next notes. It's called "phrasing".
Originally the editing of the penultimate scene from "Casablanca" (1942) went like this.
Captain Renaud: "Major Strasser has been shot. Round up the usual suspects".
Adding in some space made the moment immortal.
Captain Renaud: "Major Strasser has been shot…"
Rick stares at Renaud.
Renaud looks at Rick, and makes a sudden decision.
"Round up the usual suspects".
Here's a quote from Doctor Who:
"Oh, you've been eliminating yourself from history. You know you could be reconstructed by the hole you left." Cyber Doctor, Nightmare in Silver.(Series 7, Ep.12)
The History of Interiors in architecture is the history of shape defining space, and space defining function. But that's for another time.
#TryItTuesday: Layered Tissue Art: cut 1 shape in 3 sizes, 3 colors – overlap on white & explore.
#WritingWed: Shape – the verb. To create by making cumulative changes. How does your character shape the world?
#FridayFun: Put black silhouettes (trace a posed photo) of your favorite people on pretty paper & frame.