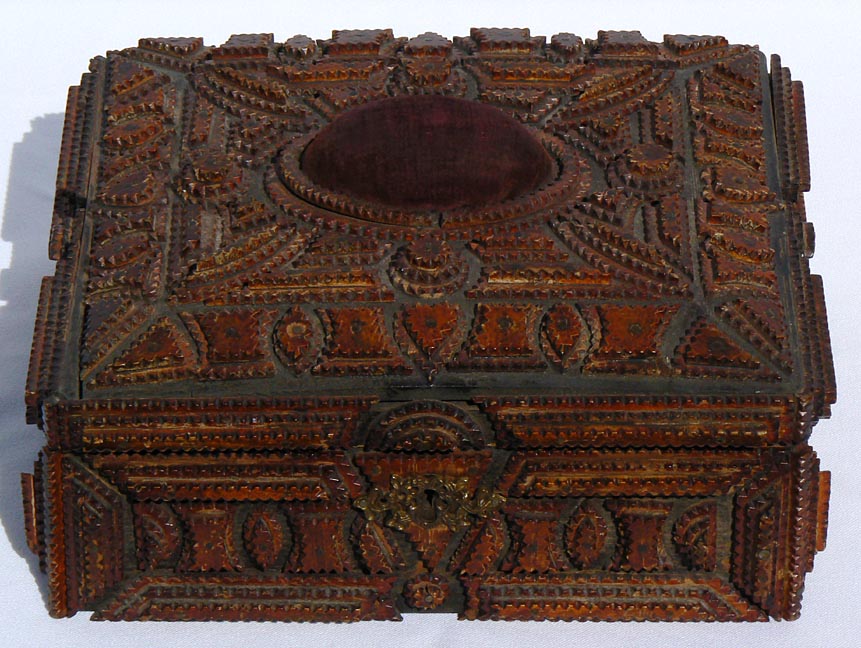 Hobo or Tramp Art is a Folk Art style of utilitarian decorative and functional art objects carved from wood made during the period from the late 1890's through the Great Depression. Visually the style is characterized by the appearance of stacked layers and repeated geometric motifs, with distinctive V-shaped notches along every edge.
That is because the carving or whittling is the simplest possible method – using a simple pointed blade like a pocket knife with repetitive motions. In most pieces, pyramid shapes predominate, and the artisans also like using heart shapes, especially for gifts for the ladies in their families.
There is some dispute about whether it is correct to use "hobo" interchangeably with "tramp". Most collectors and scholars challenge the assumption inherent in either name that this work was created by itinerant workers or homeless travelers. Research shows rather that these highly detailed and time consuming practical objects were created primarily by self-taught working class or low income men, using what was available to them, to make gifts and items for use in their homes. Some even consider the etymology of the name Tramp Art to be from the German "trampen" referring to woodworking apprentices in medieval times, who did travel to different masters' workshops for their artisan education, rather than the contemporary itinerants of the US Depression.
Most of the objects created are inherently functional – boxes or other containers. People are beautifying their everyday items, just as folk quilt makers would combine their wool scraps in pretty patterns in making their functional bedding. The beauty did not add to the functionality, but did enhance the pleasure of use.
The other interesting point is the scale of the pieces. They can be as small as a jewelry box, or as large as a wall mounted armoire. Other common finished items include picture frames, doll's houses, clock bodies, money boxes and small chests. Vintage tramp art has become highly collectible, and contemporary tramp art is a popular sub-genre of folk art and prim style home décor.
The reason I want to share about this extraordinary art is to focus on the use of the found materials. People making tramp/hobo art are making do with what they can find, primarily wood from cigar and produce boxes. Cigar boxes at the time were made from high quality wood, quite solid but not legally reusable for cigars. Often the pretty motifs from the labels were incorporated into the designs. Sometimes mosaics from broken pottery were also included. The artisans enjoyed mixing different kinds of woods to create striped or shaded effects, and using different varnishes.
They weren't struggling with labels of creative or not, and probably didn't consider their own work necessarily as art, but as a craft, easy to learn, inexpensive to practice, and since it involved wielding a knife, no doubt considered manly enough. It would be simple enough to start with a small box and layer notched rectangles each a little smaller on all four sides and the top, and then stack a few more to make legs.
I imagine that once someone starts wood working, enjoying the tactile beauty of the woods, the meditative repetition of the motions, and starts seeing the speed with which an object can become texturally fascinating, it would be easy to become engrossed with the craft.
Here are a couple of gallery sites: