"I let go of what I didn't do. I release it to be carried away on the wind while I sleep tonight.
I look forward to all that awaits.  I open to the possibilities without being attached to the outcome.
I separate my value from the things I do. I identify with the goodness and grace that I share.
I declare to live a life in the pursuit of happiness.
Of my own desired design."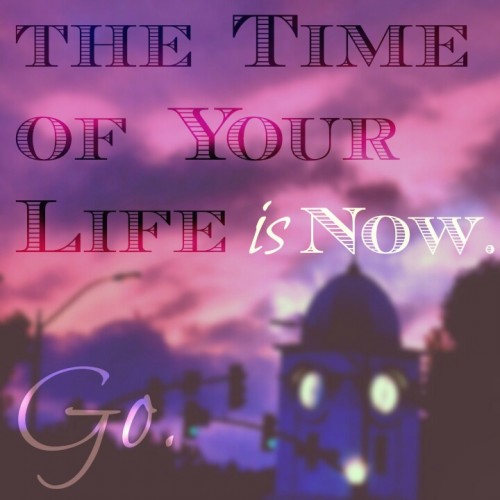 Here's a creativity blast extra!
My good friend and creative being Flo Gascon is offering her creativity and life enhancing program, The Time of Your Life is Now as an online workshop for the first time.
The self-paced, email supported workshop is full of ideas and gentle guidance towards making this year, this month, this minute the beginning of the best, most fulfilled, time of your life.
And the great news is that the next supported session starts this Monday, July 15th, although you will have full access to the workbook materials the instant you register!
From the website:
The Time of Your Life program helps you design:
opportunities to be seen and known for your unique self
meaningful and productive celebrations of you
a toolkit for making things happen and feeling good while you do it
an arsenal of happiness and gratitude that inspires you
emotional space that honors where you've been while moving on
with
a New Step and Exercise in your inbox every day except Sunday for two weeks
a 40 page pdf workbook for in-depth examining and planning; a place to put your commitment in writing; a reference guide to remind you of your intentions
Intentions and Tools to make this the time of your life

My method + your work = sparks to create the life you want to live
——————————————————————————————-
The recommended price of the program is $37, and you can define the value of the program and choose to pay more if you wish.
But Flo understands that sometime people need a bit of encouragement and practical help to live their dreams, so she is offering the amazing "pay what you choose" option, allowing you to pay any amount from $15 on up, without judgment or sales pitches.
Click here to learn more and register.